Posted by Lauren in Early Buzz | 0 Comments
Early Buzz: Virtuosity by Jessica Martinez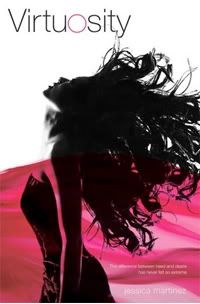 Summary from Goodreads:
Now is not the time for Carmen to fall in love. And Jeremy is hands-down the wrong guy for her to fall for. He is infuriating, arrogant, and the only person who can stand in the way of Carmen getting the one thing she wants most: to win the prestigious Guarneri competition. Carmen's whole life is violin, and until she met Jeremy, her whole focus was winning. But what if Jeremy isn't just hot…what if Jeremy is better?
Carmen knows that kissing Jeremy can't end well, but she just can't stay away. Nobody else understands her—and riles her up—like he does. Still, she can't trust him with her biggest secret: She is so desperate to win she takes anti-anxiety drugs to perform, and what started as an easy fix has become a hungry addiction. Carmen is sick of not feeling anything on stage and even more sick of always doing what she's told, doing what's expected.
Sometimes, being on top just means you have a long way to fall….
My thoughts in a nutshell: Virtuosity is a vibrant contemporary debut about music and coming into one's own. Jessica Martinez's writing is just as lyrical as the pieces that Carmen plays on her violin, and the storytelling is borderline perfect. Virtuosity manages to balance introducing the technicalities of competitive violin playing with expressing the scary emotions a young woman goes through as she tries to think independently of her controlling mother. Virtuosity will capture the hearts of anyone who reads it. Highly recommended!

Five awesome things about Virtuosity:

1. Carmen. She's someone I couldn't help but root for—her growth potential at the beginning of the book is so great that it was impossible not to! She's humble despite her fame, and she develops an incredible inner strength throughout the novel.

2. Jeremy. Ohhh my goodness. Jeremy is cocky and super self-assured, but he's also kind and sort of a tease. Plus, he's British. 'Nuff said.

3. The emotional rollercoaster. Virtuosity makes you feel like you're in Carmen's shoes. Everything she feels, you feel—and it's an incredible experience.

4. The music. I knew next to nothing about competitive violin playing (is that even what they call it?), but by the end of Virtuosity I felt I had learned quite a bit. And let me tell you—competitive violin playing is not easy! I have serious respect for violinists now.

5. The little bit of edginess. Virtuosity examines topics like drug addiction (Carmen takes anti-anxiety meds when she performs, but she begins to realize she's dependent on them) and manipulation of your offspring (Carmen's mom is kind of awful).

Guys, this book is positively beautiful. Pre-order it on Amazon today!
Learn more at the author's website.

Note: my full review will be posted closer to the release date.