Posted by Lauren in Early Buzz | 0 Comments
Early Buzz: Winter Town by Stephen Emond
My Early Buzz feature aims to bring attention to upcoming releases that I've recently enjoyed! Click here to see past Early Buzz posts. Full reviews for featured titles will be posted closer to their release date.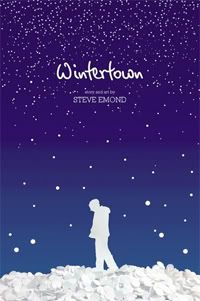 Summary from Goodreads:
Every winter, straight-laced, Ivy League bound Evan looks forward to a visit from Lucy, a childhood pal who moved away after her parent's divorce. But when Lucy arrives this year, she's changed. The former "girl next door" now has chopped dyed black hair, a nose stud, and a scowl. But Evan knows that somewhere beneath the Goth, "Old Lucy" still exists, and he's determined to find her… even if it means pissing her off.
My thoughts in a nutshell:

Winter Town is an adorable and simultaneously powerful story about two people growing apart and growing close once again. Stephen Emond paces the novel perfectly; it takes place over the course of a few short weeks, but the story still feels well-rounded and whole. Stephen Emond also succeeds in evoking tremendous nostalgia with Winter Town. Descriptions of family Christmases and snowy days will bring back the days of yore for any reader. This is a book definitely best read during December.

Five awesome things about Winter Tow:

1. The illustrations. Bet you didn't realize that this book had pictures! Well, it does, and they're fantastic. They really complement the story and enhance the experience. Stephen Emond's style is absolutely perfect for Evan's comic book-loving character.

2. Childhood friends. Relationships between people who have grown up together are my favorite. Lucy and Evan are too cute together! I loved their banter.

3. The wintery feel. Winter Town is definitely a book that needs to be read around Christmastime. It made me yearn for cold weather and a decorated tree!

4. The family dynamic. Evan's family is crazy! He has an overbearing dad, a super lax mom, and a grandmother who is pretty much the best grandparent ever. Lucy's family, on the other hand, is broken and complicated. I loved the juxtaposition between the two!

5. The emotional rollercoaster. Winter Town will make you laugh, make you cringe, and make you sad, but that's all part of the fun! I loved that Stephen Emond succeeded in evoking all kinds of emotion in me.

Winter Town comes out in December from Little, Brown. Pre-order a copy here!