Posted by Lauren in Book Reviews, Contemporary | 12 Comments
The Butterfly Clues by Kate Ellison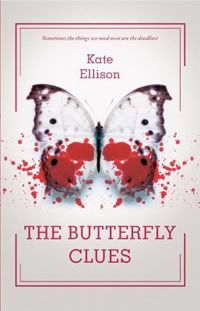 The Butterfly Clues by Kate Ellison
Publisher: Egmont USA
Release date: February 14, 2012
Pages: 336


Summary: Penelope (nicknamed "Lo") has urges. Sometimes, it's to steal something. Other times, it's tapping out a particular pattern on her thighs. Her family is not accepting of her "condition". One night Lo finds herself in Neverland, the wrong side of town, and almost gets shot. Later, she discovers that the shot that barely missed her was intended for a different girl: Sapphire, a stripper at a club called Tens. Lo finds herself caught up in Sapphire's murder—she is compelled to find out who the culprit is.
My thoughts: The Butterfly Clues is different from your average murder mystery in that it features a protagonist with OCD. It's a bit difficult to relate to Lo at first, because she seems so utterly controlled by her condition. It's only later, when she develops relationships with others (be they dead or alive), that we really get a sense of who she is outside of her compulsions. Lo's OCD really adds a whole new dimension to The Butterfly Clues; it would not be nearly as complex and intriguing if she was an ordinary girl. It's interesting to see how Lo's quirks propel the story forward.
The mystery itself is surprisingly absorbing. There are so many different twists and turns that it's impossible to predict who the culprit is, or even whether certain characters should really be trusted. Answers are revealed at just the right rate, and readers will keep turning the pages until they reach the riveting conclusion. I read The Butterfly Clues in one afternoon, which testifies to how engaging it is.
The characters in The Butterfly Clues are where the book suffers a bit. Lo isn't the most relatable protagonist, though she is definitely interesting. Flynt, a boy Lo meets in Neverland, is perplexing in his evasiveness. We never fully get a handle on him, though Lo ultimately ends up feeling that he's the only person who truly understands her. This may be true, but as a reader, I couldn't buy into Flynt as a genuine person.
On the other hand, I felt that Sapphire, despite being dead, was very well developed. We learn about her through the things she leaves behind, and through Lo's imagination.
The Butterfly Clues is a positively thrilling murder mystery that readers will sink their teeth into. It may seem a bit confusing at first, but after a few chapters, things begin to kick in. The Butterfly Clues is a great choice for readers who are looking for a dark, suspenseful YA novel. It's not for the faint of heart–it's gritty and raw—but it's very intriguing.
4/5 stars
For those who like: Mystery, thrillers, stories about mental illness
Source: publisher