Posted by Lauren in Book Reviews, Contemporary | 9 Comments
Review: Pretty Crooked by Elisa Ludwig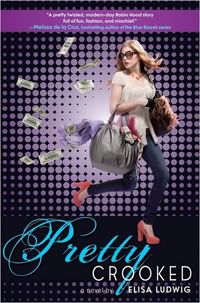 Pretty Crooked by Elisa Ludwig
Publisher: Katherine Tegen Books
Release date: March 13, 2012
Pages: 358


Summary: Fifteen-year-old Willa has just moved to a wealthy town in Arizona, thanks to her mother selling a painting for a ton of cash. Willa has never been rich in her life, so she finds it difficult to relate to the designer brand-wearing beauties that attend her school. When some of these girls begin to bully the scholarship kids, Willa decides to take matters into her own hands. She resolves to be a modern-day Robin Hood: stealing from the rich and giving to the poor.
My thoughts: Pretty Crooked may seem fluffy, and for the most part, it is. But we all need some fluff in our lives once in a while, right? And luckily, Pretty Crooked doesn't cross from fluffy into cheesy—it's that perfect balance of serious stuff (like robbing people) and fun stuff (like the super cute boys in Willa's life). Willa is a great narrator; Elisa Ludwig does a great job of capturing the voice of a smart (albeit naïve) teenager. Willa is full of hilarious quips, and her initial feelings of being an outcast are very relatable. Plus, she's realistically flawed (come on, petty theft is never a good idea), which ultimately makes her feel more authentic. Readers will love Willa's attitude and genuine kindness; I sure did.
Another standout point of Pretty Crooked is the relationships that Elisa Ludwig develops. There's the relationship between Willa and her awesome mom, which is quietly complex; there's the tenuous friendships Willa forms with the rich girls and the poor girls; and there's the banter-fueled interaction between Willa and two different guys, both of whom are mostly interested in being her friend, which is a nice change of pace. The way Willa acts around each of these groups is fascinating, and Elisa Ludwig does a great job of realistically portraying the ways in which a girl goes about finding her place in a new environment. I loved reaching about all the people Willa befriends.
The only not-so-fabulous aspect of Pretty Crooked is its ending. It's quite rushed—something huge happens, and no time is left for explanation or recovery. Many questions posed throughout the story are still left unanswered by the turn of the final page, which leaves the reader with a feeling of dissatisfaction. If the ending of Pretty Crooked hadn't left us hanging, I would have been much more pleased with the book as a whole.
Overall, Pretty Crooked is a fun romp that I'm sure most readers will enjoy. Fans of realistic fiction looking for something a little less heavy should definitely turn to Pretty Crooked for a few laughs and a great heroine.
4/5 stars
For those who like: rich people, bighearted heroines, critiques of the high school social hierarchy.
Source: publisher via NetGalley