Posted by Lauren in Book Reviews, Featured, Mystery | 7 Comments
Ten by Gretchen McNeil
Ten by Gretchen McNeil
Publisher: Balzer + Bray
Release date: September 18, 2012
Pages: 304


Summary: Ten teens are invited to an island for three days of parent-free partying. Unfortunately, the weather turns sour and a storm hits, leaving the party-goers stranded on the island without any way to contact the outside world. To make matters worse, it seems that someone is systematically picking off (read: killing) the teens on the island. They need to figure out who the culprit is before they all wind up dead.
My thoughts: Ten has all the best elements of a horror movie perfectly packaged in a novel that can be read in one sitting. It has a huge cast of characters (necessary, of course, for killing off), but we do get to know the main characters quite well: Gretchen McNeil develops their history and personalities very well. The best part of the book, though, is how thoroughly terrifying it is. I'm usually not one for scary stories, but I completely ate Ten up—mostly because of how well the mystery is set up and executed. Plus, once I got started, there was no way I wasn't finishing Ten. It's one of those books that completely wrenches you out of reality and into the story.
For those of you who can see endings from a mile away, I can almost guarantee that you won't be able to guess Ten's killer until the very end. I had a theory towards the middle of the book, but I turned out to be completely wrong. I love when books surprise me, and Gretchen McNeil did exactly that with the ending of Ten.
The only thing you might be iffy about in Ten is the romance. It's difficult to believe that two people could end up kissing while there's a psycho killer on the loose, right? Luckily, Gretchen McNeil gives the romance an initial setup, which makes it more believable. Plus, when there is kissing, it reflects the urgency of the situation on the island, and the characters are, understandably, a little out of their minds. I loved this attention to detail: Gretchen McNeil always makes sure that Ten is plausible, and that the characters react like real people, rather than supersleuths who are never emotionally scarred.
If horror is your thing (and even if it's not), try Ten! You'll be surprised at how quick the pages fly by—and how great the mystery is.
4/5 stars
For those who like: horror, murder mysteries
Learn more about the author at GretchenMcNeil.com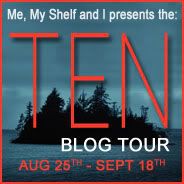 Click here to see the rest of the stops on the TEN blog tour!