Posted by Lauren in Featured, Guest Posts | 6 Comments
TEN Things Kenny Would Bring to a Deserted Island
Welcome to my stop on the Ten blog tour! I got the chance to ask Kenny, on of the ten teens trapped on Gretchen McNeil's island of horrors, which items he'd bring with him to a deserted island! He's certainly an easy person to read, right?
Ten Things Kenny Would Bring to a Deserted Island
1. PlayStation
2. Unlimited supply of PlayStation games, mostly FSPs
3. Last season's offensive line play book. Gotta keep studying
4. Steaks. Lots of steaks. I need a protein-heavy diet
5. My three brothers and two sisters. We're tight like that
6. iPod loaded with Slayer, Anthrax and Motorhead
7. Notes from Underground by Dostoevsky. Hey, jocks read, too
8. Lifetime supply of Monster Assault energy drinks
9. Sunglasses
10. Lori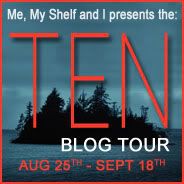 Click here to see the rest of the stops on the TEN blog tour!