Posted by Lauren in Book Reviews, Featured, Mystery | 10 Comments
Unspoken by Sarah Rees Brennan
Unspoken by Sarah Rees Brennan
Publisher: Random House
Release date: September 11, 2012
Pages: 370


Summary: Kami has always mentally talked with her imaginary friend, Jared—even as a teenager. When the mysterious Lynburn family moves back into town, Kami discovers that Jared actually exists. The Lynburn family is part of local legend, and Kami wants to uncover some of their secrets for an article for the school paper. It seems that her tie to Jared has something to do with the Lynburn legacy, too, so Kami is desperate for answers. Unfortunately, digging up the past can have deadly consequences.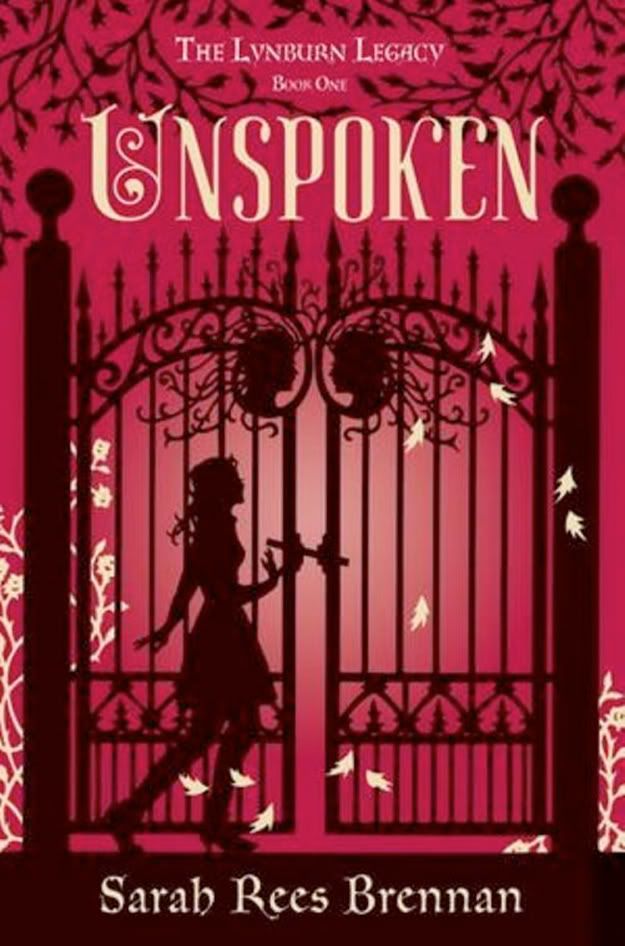 My thoughts: Sarah Rees Brennan's writing is smart and sassy, just like her Livejournal. Its clear that Brennan is the one telling the story, rather than an anonymous other. Luckily, this works to the reader's advantage, for Brennan is a very good storyteller. It's her humor that propels the novel, though: I'm not sure how Unspoken would go over without the laughs.
Now, when I say laughs, I mean it. I'm not one to physically react to a book, but Unspoken literally (not mentally!) made me laugh out loud. I'm sure I looked like a loon (a very pleased loon).
Unspoken's mystery is a slow one to unravel, but the pages seem to fly by because of the characters. Brennan pays close attention to her characters, molding them to seem like real people (albeit real people who are incredibly quick to come up with retorts). Kami's friends and family all have unique and memorable personalities, which help the book as a whole stand out. Characters are a big part of what makes me like a book, and lucky Sarah Rees Brennan nailed hers. The interactions between them feel genuine, and trust me—you're going to wish you had friends like Kami. She's a bundle of snark and sweetness that you can't help love.
One of the central plot points of Unspoken is Kami and Jared's ability to be in each other's heads all the time. As a person who does not communicate with other people through thoughts, this concept made me feel a bit squidgy. (Like, what happens when Kami has to pee? Oh god.) Luckily, Sarah Rees Brennan does a great job of making the whole mind-bond thing feel as natural as can be. Jared and Kami have grown up with the ability, so it's not weird for them—it's the only thing they know. I appreciated the thought put into the relationship between Kami and Jared, considering their odd circumstance.
If you like pint-size detectives and smart humor, Unspoken is the book for you. I can't recommend this book enough!
5/5 stars
For those who like: laughs, mysteries, Gothic novels
Find the author at SarahReesBrennan.com.
Comment question: How would you feel if you had to share head space with someone else?